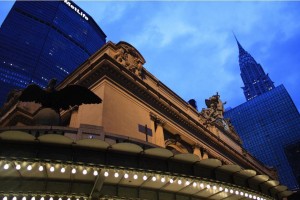 Bigger team, new office. With the demand on our services growing, we see ourselves needing to start afresh in a new space double the size of what we currently occupy.
This also means that we will be changing locations. For those of you who do not know New York City, even a couple of blocks make a huge difference in the vibe and flow in this – the greatest city on earth.
So, reluctantly Link Translations is letting go of our Grand Central location right in the heart of midtown Manhattan with a view of the Chrysler building but more importantly of the Hermes statue on top of the Grand Central Station for new pastures. We would also like to point out our infatuation with greeting the Hermes statue every morning. The Greek god Hermes (known as Mercury later on to Romans) was the messenger of the gods, the intercessor between mortals and the divine. He is also the protector and patron of travelers, orators and wit, literature and poets. He is the Olympian embodiment of translators and we will miss saluting him every morning.
Our new location at 250 West 57th Street is more refined, airy and to the delight of our whole team – is just steps away from the lungs of this city – the Central Park. We are already dreaming of lunch hours picnicking at the park and the myriad of activities we can just walk to from our office (New York Philharmonic Concert on the Great Lawn anyone?) For all other seasons being right across from Carnegie Hall would certainly make getting to concerts easier. 
For all correspondence please note our new headquarters location as of May 31st, 2014 at:
Link Translation, Inc.
250 West 57th street, Suite 2001
New York, NY 10107
See you there.