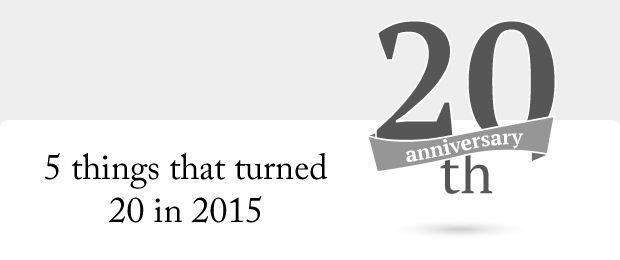 To some 1995 feels like it was yesterday. To others it was a lifetime ago. Here are some very memorable things that turned 20 in 2015.
Toy Story from Pixar – their first feature film, opened for the first time in 1995. It was the first mainstream entirely CGI movie ever made.
Playstation - The famous game console made its debut for the first time also in 1995. Many of us at Link Translations stood in long lines to be able to get one. First introduction to Twisted Metal on Playstation and the hours spent trying to combat others in Mad Max style vehicles happened 20 years ago.
DVD - Slowly fading away but still around, the DVD's were first introduced in 1995. This week marks the availability of the Star Wars franchise in digital format (iTunes, etc.) and probably also marks the end of usefulness for DVD's. It was still an extraordinary feeling to be able to watch movies in digital format, not having to rewind VHS tapes and being able to get to a chapter in a movie within seconds (rather than fast forwarding for minutes).
Dolly The Sheep - By all counts the world's most famous sheep Dolly was born in 1995 and would be 20 years old if she were still alive. Unfortunately she only made it to age 8 and passed away in 2003. We still wanted to include her here because it was the single most important development of 1995. Rest in peace Dolly.
And last but not least – Link Translations celebrated its 20th anniversary on March 24, 2015. While all the projects we participated in the early stages of our existence is hard to remember, Link Translations completed over 28,000 different translation and interpretation projects since 2007 – the date when we first got our CRM system online and began a memory for our company that helped us serve over 3,000 accounts and 18,000 individuals until today.
We look forward to serving you – our clients – for another 20 years for all your translation, interpretation, simultaneous interpretation rental and linguistic technology needs. And to our translators and interpreters – be it Spanish translators in Florida or Chinese interpreters in New York – thank you for your service. We are stronger thanks to you and look forward to our collaboration for another 20 years.
For all those visiting our post, feel free to share your 1995 memories.