What is a Certified Translator?
If you are looking for our certified translators you are on the wrong part of our web site. Please click here for a list of our certified translators in every language throughout the United States.
We receive hundreds of visitors to our web-site every day. Many of those are thankfully for the services we provide. Some of them however are questions from colleagues who are just starting in the translation business. We try to answer them as best we can but for some questions that have become very common it makes sense to just place the answer here so anyone can find it.
The question we receive most is about certified translations and how to become a certified translator. Which begs the question of "What is a certified translator?"
There is some disambiguation about the term "certified translator". It really could mean two different things. A translator "certified" by an authority or a translator that performs "certified translations".
So What is a Certified Translation then?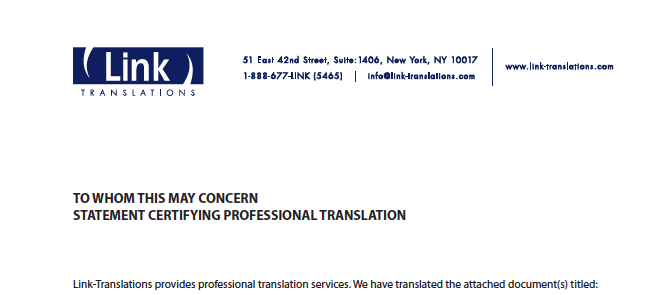 First off lets just dispel the misconception about this issue. For the North American market, a certified translation is simply one that is being attested by the person performing the translation as to its accuracy, completeness and impartiality; the three attributes that make a translation for legal purposes desirable.
There is no authority that "certifies" a linguist as a "certified translator" that has somehow a certain level of training or education that would allow him/her to be considered to be "certified" in providing translations for legal purposes (that does exist for interpreters – more on interpreter certification here…)
The American Translators Association has certifications for some language pairs which simply is a pseudo certification for the linguistic capabilities of a translator but nothing else. The US State Department, Federal Courts and various State courts all have written examinations to test the linguistic proficiency of translators but none of them are necessary for translating a birth certificate for the USCIS, a diploma for USMLE or a .
So the short answer to the question "How to be a certified translator" is simply being able to provide a certification that attests to the accuracy, completeness and impartiality in rendering a document into the target language.
It is conceivable that our colleagues ask the question of becoming a certified translator because they want to find more about "How to provide a certified translation". This is a question we are glad to answer.
About Link Translations: Link Translations, Inc. is a global translation agency, providing translation, document discovery, interpretation, document legalization and localization services in all languages. The company serves a wide variety of clients such as individuals, law firms, arbitrators, hospitals, private corporations and government agencies. (http://www.link-translations.com/about-us/)